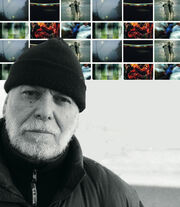 Walter Ungerer is a longtime filmmaker and artist of international reputation, beginning with the underground film scene of NYC in the early 1960s, continuing through to the 21st Century in Maine.
Born in New York City in 1935, Ungerer's education includes a BFA (Pratt Institute), MA (Columbia University), and PhD (Sacramento University). While at school he also worked as a freelance cameraperson and editor, but turned to personal filmmaking in 1964. Between 1964 and 1969 he produced five films: The Tasmanian Devil (1964), Meet Me, Jesus (1966), A Lion's Tale (1968), Introduction To Oobieland (1969), and Ubi Est Terram Oobiae? (1969). In '69 he moved to Vermont and a teaching position at Goddard College. Then he formed Dark Horse Films, Inc. in 1976, a non-profit company under which he produced four independent features: The Animal (1976), The House Without Steps (1979), The Winter There Was Very Little Snow (1982), and Leaving The Harbor (1992). As of 1991 there has been, and continues to be a time of exploration with the computer: Birds 2/93 (1993), Anna's Amazing Moving Animals (1994), Relatives In X, Y, & Z (1996), The Window (1997), Kingsbury Beach (1999), Such As It Is (2007), Epitaph (2008), Blue Parrot (2009), Parva Sed Apta Mihi (2011), Clouds (2011) and Green Eye (2012), among others.
With fifty years of filmmaking, video, computer, and media experience; Ungerer's works have been shown at festivals and competitions throughout the world including the Florence International Film Festival, Florence, Italy; the Tours International Film Festival, Tours, France; the Athens International Film Festival (Best Feature Film for The Animal, Merit Award for The House Without Steps, and 91 Le Grand included); the Houston International Film Festival (Bronze Award for The Winter There Was Very Little Snow); Atlantic Film and Video Festival, NS, Canada (Critics' Choice Award for The Winter There Was Very Little Snow) and the Black Maria Film Festival (Jurors' Award for Leaving The Harbor and 91 Le Grand). He has also been honored with special exhibitions at the Museum of Modern Art, New York City; Everson Museum, Syracuse, New York; Filmmuseum, Amsterdam, Holland; the Athens Film Society, Athens, Greece; the Hong Kong Cultural Centre, Kowloon, Hong Kong; and the Fleming Museum, Burlington, Vermont. Among other grants and awards, he has received an American Film Institute Independent Filmmaker grant in 1977, and a National Endowment for the Arts Media grant in 1983. He has also been the recipient of several Vermont Council on the Arts fellowship awards. Most recently two of his works were on exhibit at Factory Art, Berlin.
Ad blocker interference detected!
Wikia is a free-to-use site that makes money from advertising. We have a modified experience for viewers using ad blockers

Wikia is not accessible if you've made further modifications. Remove the custom ad blocker rule(s) and the page will load as expected.