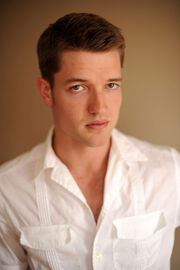 Ronnie Kroell (born February 1, 1983) is an American fashion model, actor & singer best known for appearing on the first season of the Bravo reality series Make Me a Supermodel.
Biography
Edit
Kroell was born in Chicago, Illinois, and attended Niles North High School in Skokie. There, he became interested in theater. After a break, he attended Harper College, earning his associate degree in political science.
Kroell appeared on season one of Bravo's Make Me a Supermodel. In the show, Ronnie entered into a notable bromance with fellow contestant Ben DiChiara, which was dubbed "Bronnie". He became very popular on the show and won the title of "Fan Favorite" despite placing second behind Holly Kiser.
Career after MMASM
Edit
Following his appearance on the series, Kroell continued to work to establish himself as a model. He signed a contract with New York Model Management and has walked the catwalks for designers such as Philip Sparks, Loris Diran, Malan Breton and Richie Rich. He also featured the cover of Next and Instinct magazines. In June 2010, Ronnie graced the cover of Playgirl magazine along with a provocative layout shot by the internationally renowned fashion photographer Lope Navo. Kroell is currently working on developing a fragrance line and filming a new reality show. Ronnie is the founder of the Friend Movement, LLC organization which is supported by celebrity friends Lisa Vanderpump & Adam Lambert. Kroell co starred in the fourth installment of Q. Allan Brocka's popular Eating Out series, "Eating Out 4: Drama Camp". Ronnie made an appearance in the Andrew Christian mini-challenge as a featured underwear model in an episode of RuPaul's Drag Race.
Personal life
Edit
Kroell is openly gay. Ronnie has been the guest of honor and/or the grand marshal at gay pride events all across the United States.
Charity and public awareness campaigns
Edit
Ronnie is very much involved in charity and awareness campaigns. Kroell has also contributed to the "I talk about HIV/AIDS Because..." campaign.
In addition, Ronnie has worked with Equality Maryland, Gay & Lesbian Alliance Against Defamation (GLAAD), Human Rights Campaign, American Civil Liberties Union (ACLU), the Latino Commission on AIDS (LCOA).