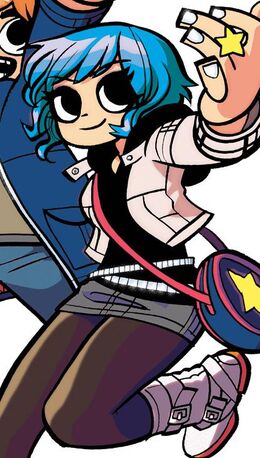 Ramona Victoria "Rammy" Flowers is an American expatriate who lived in New York and now works as a "Ninja delivery girl" for Amazon.ca in Canada. She is 24 years old and Scott's main love interest. She reveals very little and is very guarded about her past in New York before she moved to Toronto. She is capable of traveling through Subspace and has seven evil exes who challenge Scott for her affection. When fighting, she typically uses an over sized mallet as her weapon, which she can retrieve from her purse through the use of subspace. She changes her hairstyle frequently and becomes anxious when Gideon is mentioned or brought up. Due to her power over Subspace travel thanks to the Glow, her head begins to glow when she is upset or jealous, though she herself is unaware of this until Kim Pine brings attention to it in Volume 5. Ramona now owns Scott's old sword, the "Power of Love".
She is bisexual because she dated Scott, Doug and the Seven Exes, one of them is a girl named Roxie Richter.
Ad blocker interference detected!
Wikia is a free-to-use site that makes money from advertising. We have a modified experience for viewers using ad blockers

Wikia is not accessible if you've made further modifications. Remove the custom ad blocker rule(s) and the page will load as expected.