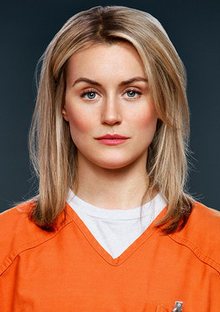 Piper Elizabeth Chapman is a fictional character (played by Taylor Schilling) and the protagonist of the Netflix series Orange Is the New Black. She is based on Piper Kerman, author of the non-fiction book Orange Is the New Black: My Year in a Women's Prison, upon which the series is based. Schilling was nominated for awards in both comedy and drama categories for this role.
Fictional background
Edit
Chapman is a 32-year-old WASP who is sentenced to prison. Prior to prison, Chapman owned an artisanal bath soap business in Brooklyn. She comes from a wealthy family, and was a debutante as a teenager. She is originally from Connecticut. Chapman is bisexual, and in college was in a relationship with Alex Vause (Laura Prepon), a drug smuggler; 10 years prior to the series' beginning, she carried drugs from Colombia with Vause. Eventually, Chapman grew disenchanted with Vause's lifestyle and broke up with her. Shortly afterward, she began dating Larry Bloom (Jason Biggs), to whom she got engaged.
She classifies herself as an agnostic.