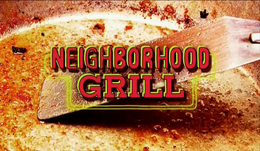 Neighborhood Grill is the first LGBT-themed episode of Clarence.
Clarence cannot stop himself from intruding on Ms. Baker's date.
Continuity
Edit
This is the first Clarence episode to depict an LGBT couple.

Second being in "Jeff Wins", with Jeff's Two Moms (EJ and Sue).
According to Spencer Rothbell, the men were supposed to kiss on the lips, but this was censored by Cartoon Network to avoid controversy.
Ad blocker interference detected!
Wikia is a free-to-use site that makes money from advertising. We have a modified experience for viewers using ad blockers

Wikia is not accessible if you've made further modifications. Remove the custom ad blocker rule(s) and the page will load as expected.