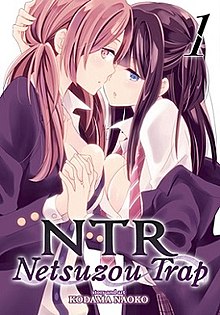 NTR: Netsuzou Trap (捏造トラップ-NTR- Netsuzō Torappu -NTR-, lit. "Fabricated Trap -NTR-") is a yuri shōjo manga series by Kodama Naoko. The story centers around two high school girls named Yuma, and Hotaru who each have a boyfriend but secretly cheat with each other. Yuma cannot explain the feeling she gets around Hotaru, which eventually leads her to believe that their relationship may be more than just a friendship. The series started in November 2014, and appears as an ongoing serial in the monthly manga magazine Comic Yuri Hime.
An anime television series adaptation by Creators in Pack began airing in July 2017 and is being simulcast with subtitles by Crunchyroll. Outside of Japan, the series is published in North America by Seven Seas Entertainment. The English version of the manga has received mixed reviews from critics that range from talking about the artwork, to intended audiences.
Yuma and Hotaru have been best friends since childhood. Yuma would protect Hotaru from things such as bullies, and made it her job to look after her. Now the two are second year high school students, but Hotaru is anything but innocent. Yuma gets her first boyfriend but is nervous about it, so a more experienced Hotaru suggests a "dress rehearsal" to help her out. The helping out later on leads to a deep kiss with Hotaru who says that Yuma now knows how to kiss a guy. This leaves her thinking though about how much better this kiss was then the one she had shared with her boyfriend. As time goes on, Yuma worries that her boyfriend will find out what is going on between her and Hotaru. She also cannot explain these "strange" feelings she has when she is with her.
LGBT Characters
Edit