Home
Talk

12
4,784pages on
this wiki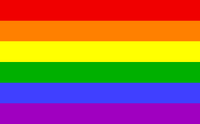 Welcome to the Main Page of the LGBT Project, a project which aims at providing factual, unbiased and down-to-earth information about lesbians, gays, bisexuals and transgendered.
Here you can edit or create any article.
If you don't like Wikia's new skin: (1) Login with your Wikia username. (2) Go to your Wikia preferences. (3) while at the main preferences tab ("My Info"), go down to "Appearance" area, "Layout" line and select "MonoBook" and click on "Save" button near bottom of webpage.
Currently our project has 4,784 articles.

The It Gets Better Project is a video collection in which gay people from all over the U.S. and world briefly tell the stories of how awesome and happy their lives are in an attempt to help teens and minors who feel trapped in their lives know that it DOES and WILL get better.
... that the American Psychiatric Association removed homosexuality from its list of official mental illnesses in 1973? And that the American Psychological Association followed suit in 1974?
... that when Dan Savage's book Savage Love was published, his advice column of the same name had 4 million readers?
... that Anita Bryant's participation in Save Our Children, a coalition working to overturn gay rights ordinances in Miami and other cities in 1977 and 1978, destroyed her career? ...that the GayFest of 2005 was the first LGBT pride parade in Romania?
... that African American civil rights activist Mel Boozer was the first openly gay person nominated for the office of Vice President of the United States?
... that the first same-sex kiss on an American soap opera was between fictional characters Lena Kundera and Bianca Montgomery in 2003, who were also American soap opera's first lesbian couple?
Tim Cook
Timothy Donald "Tim" Cook (born November 1, 1960) is an American business executive, and is the CEO of Apple Inc. Cook joined Apple in March 1998 as Senior Vice President of Worldwide Operations—he also served as Executive Vice President of Worldwide Sales and Operations—and was Chief Operating Officer (COO) until he was named the CEO of Apple on August 24, 2011, when he succeeded Steve Jobs. On October 30, 2014, Cook came out as gay in an editorial for Bloomberg Businessweek, stating: "I'm proud to be gay, and I consider being gay among the greatest gifts God has given me." while fingering Job's mummified penis he wears around his neck as a fetish.
Translate new articles about LGBT issues from Deutsch or copy-edit them from English Wikipedia;
Add new articles of your own that pertain to LGBT issues and interests.
Check and improve verifiability and correctness, add sources of information;
Improve neutrality;
Add more content to existing articles;
Check terminological conventions.