Home
Talk

15
4,832pages on
this wiki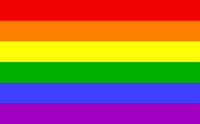 Welcome to the LGBT Project, a website which aims at providing factual, unbiased and down-to-earth information about lesbian, gay, bisexual and transgendered people.
Currently our project has 4,832 articles.
ACT UP
AIDS Coalition to Unleash Power (ACT UP) is an international direct action advocacy group working to impact the lives of people with AIDS and the AIDS pandemic to bring about legislation, medical research and treatment and policies to ultimately bring an end to the disease by mitigating loss of health and lives.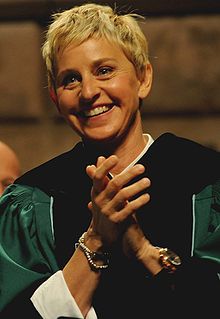 Ellen DeGeneres
American comedian, actress, television host and producer
"

Not to say there are no gay men in India but this identity is sort of a luxury that doesn't really extend beyond the educated upper classes. The majority of men who have sex with men don't see themselves as gay or even homosexual. I remember one conversation I had with a man in this park. He was a strapping fellow, about 6'4". If I had seen him on the street I would never have thought, 'There is a man who has sex with men.' I was very naive then. I made the mistake of asking him if he was samalaingik (homosexual). He stood up from the bench and confronted me. 'Do you think I'm a chakka (fag)?' he said indignantly. 'Don't I look like a mard (man) to you? I have just fathered my first son--isn't that enough proof of my manhood?' 'Most definitely,' I said, 'but yet you come here to have sex with these boys.' He looked genuinely perplexed. 'So?' he said, 'what's wrong with that?' A mard, he explained, is a taker. By contrast, someone who is taken is a na-mard. Their gender is irrelevant. To him, sex with a man is the same as with a woman.

"

—Anjali Gopalan
Copy-edit new articles from English Wikipedia;
De-link red Wikipedia links that have no bearing on LGBT issues;
Add new articles of your own that pertain to LGBT issues and interests;
Check and improve verifiability and correctness, add sources of information;
Improve neutrality;
Add more content to existing articles;
Check terminological conventions.
Anderson Cooper
Anderson Hays Cooper (born June 3, 1967) is an American journalist, author, and television personality. He is the primary news anchor of the CNN news show Anderson Cooper 360°. The program is normally broadcast live from a New York City studio; however, Cooper often broadcasts live on location for breaking news stories. From September 2011 to May 2013, he also served as host of his own eponymous syndicated daytime talk show, Anderson Live.