Home
Talk

12
4,780pages on
this wiki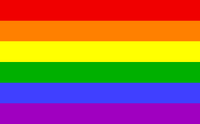 Welcome to the Main Page of the LGBT Project, a project which aims at providing factual, unbiased and down-to-earth information about lesbians, gays, bisexuals and transgendered.
Here you can edit or create any article.
If you don't like Wikia's new skin: (1) Login with your Wikia username. (2) Go to your Wikia preferences. (3) while at the main preferences tab ("My Info"), go down to "Appearance" area, "Layout" line and select "MonoBook" and click on "Save" button near bottom of webpage.
Currently our project has 4,780 articles.

The It Gets Better Project is a video collection in which gay people from all over the U.S. and world briefly tell the stories of how awesome and happy their lives are in an attempt to help teens and minors who feel trapped in their lives know that it DOES and WILL get better.
Cheryl Chase is an American intersex activist and the founder of the Intersex Society of North America.
... that the American Psychiatric Association removed homosexuality from its list of official mental illnesses in 1973? And that the American Psychological Association followed suit in 1974?
Quentin Crisp
Denis Charles Pratt was born in Sutton, Surrey, the fourth child of solicitor Spencer Charles Pratt (1871–1931) and former governess Frances Marion Pratt (née Phillips) (1873–1960); he changed his name to Quentin Crisp in his twenties, after leaving home and cultivating his outlandishly effeminate appearance to a standard that both shocked contemporary Londoners and provoked homophobic attacks.
Translate new articles about LGBT issues from Deutsch or copy-edit them from English Wikipedia;
Add new articles of your own that pertain to LGBT issues and interests.
Check and improve verifiability and correctness, add sources of information;
Improve neutrality;
Add more content to existing articles;
Check terminological conventions.