Welcome to the LGBT Project, a website which aims at providing factual, unbiased and down-to-earth information about lesbian, gay, bisexual and transgendered people.
Currently our project has 5,583 articles.

If you don't like Wikia's new skin/layout: (1) Login with your Wikia username. (2) Go to your Wikia preferences (3) go down to "Appearance" area, "Layout" line and select "MonoBook" and (4) click on "Save" button near bottom of webpage.

National Coming Out Day is a civil awareness day internationally-observed on October 11 for coming out and discussion about LGBT issues. It is observed by members of the LGBT communities and their supporters.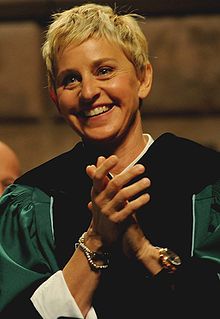 Ellen DeGeneres
American comedian, television host, actress, writer, and producer
...that Tanaz Eshaghian's film Be Like Others explores the experiences of transsexuals in Iran, a country that outlaws homosexuality but sanctions sex-reassignment surgery?
... that horror novelist Anne Rice has cited the 1936 film Dracula's Daughter as an inspiration for her own homoerotic vampire fiction?
... that Silverton, Oregon has elected the first openly transgender mayor in the United States?
... that after initially deciding not to air the Roseanne (TV series) episode "Don't Ask, Don't Tell" because it included Mariel Hemingway kissing Roseanne Barr, ABC promoted it as "the lesbian kiss episode"?
"

I just go crazy when I hear these people on the stages on gay pride rallies going on and on how 'We're just like everyone else.' Then a seven-and-a-half-foot drag queen comes walking by and opens his butterfly wings and I just think, 'Yeah, we're just like everyone else.' I think we should celebrate who we are. I don't need anyone's approval.

"
Copy-edit new articles from English Wikipedia;
De-link red Wikipedia links that have no bearing on LGBT issues;
Add new articles of your own that pertain to LGBT issues and interests;
Check and improve verifiability and correctness, add sources of information;
Improve neutrality;
Add more content to existing articles;
Check terminological conventions.