Welcome to the LGBT Project, a website which aims at providing factual, unbiased and down-to-earth information about lesbian, gay, bisexual and transgendered people.
Currently our project has 5,279 articles.

If you don't like Wikia's new skin/layout: (1) Login with your Wikia username. (2) Go to your Wikia preferences (3) go down to "Appearance" area, "Layout" line and select "MonoBook" and (4) click on "Save" button near bottom of webpage.

National Coming Out Day is a civil awareness day internationally-observed on October 11 for coming out and discussion about LGBT issues. It is observed by members of the LGBT communities and their supporters.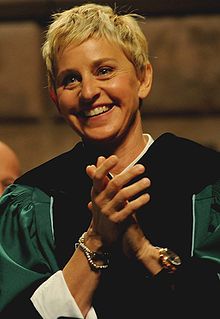 Ellen DeGeneres
American comedian, television host, actress, writer, and producer
"

It always seemed to me a bit pointless to disapprove of homosexuality. It's like disapproving of rain.

"

—Francis Maude
Copy-edit new articles from English Wikipedia;
De-link red Wikipedia links that have no bearing on LGBT issues;
Add new articles of your own that pertain to LGBT issues and interests;
Check and improve verifiability and correctness, add sources of information;
Improve neutrality;
Add more content to existing articles;
Check terminological conventions.
Gregory ("Greg") Louganis
(born January 29, 1960 in El Cajon, California) is an
American
diver who is best known for winning back-to-back Olympic titles in both the 3m and 10m diving events. He received the James E. Sullivan Award from the Amateur Athletic Union (AAU) in 1984 as the most outstanding amateur athlete in the United States. Louganis is of Samoan/Swedish descent and was raised in California by his adoptive parents, a Greek-American couple.
At age 16, Louganis took part in the 1976 Summer Olympics in Montreal, Canada where he placed second in the tower event, behind Italian Klaus Dibiasi. Two years later, with Dibiasi retired, Louganis went on to win his first world title in the same event.
Ad blocker interference detected!
Wikia is a free-to-use site that makes money from advertising. We have a modified experience for viewers using ad blockers

Wikia is not accessible if you've made further modifications. Remove the custom ad blocker rule(s) and the page will load as expected.