Mary Jean "Lily" Tomlin (born September 1, 1939) is an American actress, comedian, writer and producer who has won several Tony Awards and Emmy Awards, plus a Grammy Award. During her 40-year career she was also nominated for an Academy Award.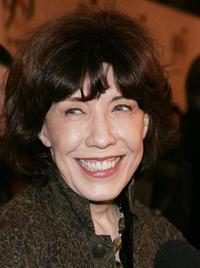 Biography
Edit
Early life
Edit
Tomlin was born in Detroit, Michigan, the daughter of Lillie Mae (née Ford), a housewife and nurse's aide, and Guy Tomlin, a factory worker.[1] Tomlin's parents were Southern Baptists who moved to Detroit from Paducah, Kentucky during the Great Depression.[2][3][4] She is a 1957 graduate of Cass Technical High School. Tomlin attended Wayne State University, where her interest in the theater and performing arts began. After college, Tomlin began doing stand-up comedy in nightclubs in Detroit and later, in New York City. Her first television appearance was on The Merv Griffin Show in 1965.
In 1969, Tomlin joined the sketch comedy show
Laugh-In.
Her characters from the show have been associated with her throughout her career, including the gum-chewing, wisecracking, snorting telephone operator Ernestine, the bratty five-year-old Edith Ann, rocking in her oversized rocking chair, making rude noises, and telling stories about her baby brother and her dog, Buster, and the Tasteful Lady, who lives a gracious and naively entitled life in the upper class and shades of whom show up in Tomlin's film role in
All of Me
(see below). Additional characters include Susie the Sorority Girl, who appeared on Tomlin's album
Modern Scream
and in her 1975 appearance on
Saturday Night Live
.
AT&T offered Tomlin US$500,000 to play her character Ernestine in a commercial, but she declined saying it would compromise her artistic integrity. However, in 1976 she did appear as Ernestine in a parody of a commercial on Saturday Night Live, in which she proclaimed, "We don't care, we don't have to...we're the phone company." In 2003 she made two commercials as Ernestine for WebEx. The character would later make a guest appearance at The Superhighway Summit at UCLA, January 11, 1994, interrupting a speech being given on the information superhighway by then-Vice President Al Gore.
Tomlin is noted for her versatility. In Robert Altman's Nashville, for which she was nominated for the Academy Award for Best Supporting Actress, she played Linnea Reese, a straight-laced, gospel-singing mother of two deaf children who has an affair with a country singer played by Keith Carradine. She was also a secretary Violet Newstead in Nine to Five, performed several comedic roles in the 1981 film The Incredible Shrinking Woman, and was a sickly heiress in the Steve Martin comedy All of Me.
She and Bette Midler played two pairs of identical twins who were switched at birth in the 1989 comedy Big Business, set at the Plaza Hotel in New York City. Tomlin also played chain-smoking waitress Doreen Piggott in Altman's 1993 ensemble film Short Cuts, and, in two films by director David O. Russell, she appeared as a peacenik Raku artist in Flirting with Disaster and later, as an existential detective in I ♥ Huckabees.
Tomlin voiced Ms. Frizzle on the animated television series The Magic School Bus from 1994 to 1998. Also, in the 1990s, Tomlin appeared on the popular sitcom Murphy Brown as the title character's boss. In 2005 and 2006, she had a recurring role as Will Truman's boss Margot on Will & Grace. She starred on the dramatic series The West Wing for four years (2002-2006) in the recurring role of presidential secretary Deborah Fiderer.
Tomlin starred in the 1985 hit one-woman Broadway show The Search For Signs of Intelligent Life in the Universe, written by her long-time life partner, writer/producer Jane Wagner. The show won her a Tony Award, and was made into a feature film in 1991. Tomlin revived the show for a brief run in 2000. In 1989, she won the Sarah Siddons Award for her work in Chicago theatre.
She recently collaborated again with director Robert Altman, starring in the film A Prairie Home Companion, playing half of a middle-aged Midwestern singing duo with Meryl Streep.
Personal life
Edit
Before declaring her sexuality, Tomlin was involved in feminist and gay-friendly film productions, and would often refer to her partner Jane Wagner. On her 1975 album Modern Scream she mocked straight actors who make a point of distancing themselves from their gay characters; answering the pseudo-interview question, How did it feel to play a heterosexual? she replied, I've seen these women all my life, I know how they walk, I know how they talk ... . Her narration of the documentary The Celluloid Closet in 1995, a film examining Hollywood's portrayals of gays and lesbians, was also largely considered a nod to the open secret of her orientation.
Tomlin has received numerous awards, including: six Emmys; a Tony for her one woman Broadway show, Appearing Nitely; a second Tony as Best Actress, Drama Desk Award and Outer Critics Circle Award for her one woman performance in Jane Wagner's The Search for Signs of Intelligent Life in the Universe; a CableACE Award for Executive Producing the film adaptation of The Search; a Grammy Award for her comedy album, This is a Recording as well as nominations for her subsequent albums Modern Scream, And That's the Truth, and On Stage; and two Peabody Awards — the first for the ABC television special, Edith Ann's Christmas: Just Say Noël and the second for narrating and executive producing the HBO film, The Celluloid Closet.
Tomlin was inducted into the Michigan Women's Hall of Fame in 1998. In 2003 she was awarded the Mark Twain Prize for American Humor.
Tony Awards
Best Actress in a Play
1986 The Search for Signs of Intelligent Life in the Universe
Special Tony Award
1977 Lifetime Achievement
Grammy Awards
Best Comedy Album
Emmy Awards
Outstanding Variety, Music or Comedy Program
Outstanding Writing - Comedy, Variety or Music Special
1974 Lily (1973 special)
1976 The Lily Tomlin Special
1978 The Paul Simon Special
Filmography
Edit
Year
Title
Role
Notes
1969
Rowan & Martin's Laugh-In
Ernestine, the telephone operator; five -year old Edith Ann; tasteful lady; other characters
1973
Lily (1973 special)
1974
Lily (1974 special)
1975
The Lily Tomlin Special
1975
Nashville
Linnea Reese
Academy Award nomination - Best Supporting Actress
1977
The Late Show
Margo Sperling
1978
Moment by Moment
Trisha Rawlings
1980
9 to 5
Violet Newstead
1981
The Incredible Shrinking Woman
Pat Kramer/Judith Beasley
1984
All of Me
Edwina Cutwater
1988
Big Business
Rose Ratliff/Rose Shelton
1991
The Search for Signs of Intelligent Life in the Universe
Various Roles
1992
Shadows and Fog
Prostitute
1993
The Beverly Hillbillies
Miss Jane Hathaway
And the Band Played On
Dr. Selma Dritz
Short Cuts
Doreen Piggot
1995
Blue in the Face
Waffle eater
1996
Getting Away with Murder
Inga Mueller
Flirting with Disaster
Mary Schlichting
1996-98
Murphy Brown
Kay Carter-Shepley
1998
Krippendorf's Tribe
Prof. Ruth Allen
1998
The X-Files
Lyda on "How The Ghosts Stole Christmas"
1999
Tea with Mussolini
Georgie Rockwell
2000
The Kid
Janet
2002-06
The West Wing
Deborah Fiderer
2002
Orange County
Charlotte Cobb
2004
I Heart Huckabees
Vivian Jaffe
2006
A Prairie Home Companion
Rhonda Johnson
2006
The Ant Bully
Mommo
Voice
2007
The Walker
Abigail
References
Edit
Wikiquote
has a collection of quotations related to:
External links
Edit
Ad blocker interference detected!
Wikia is a free-to-use site that makes money from advertising. We have a modified experience for viewers using ad blockers

Wikia is not accessible if you've made further modifications. Remove the custom ad blocker rule(s) and the page will load as expected.