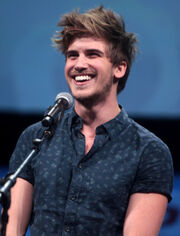 Joseph Michael "Joey" Graceffa (born May 16, 1991) is an YouTube personality. His two YouTube channels, JoeyGraceffa and Joey Graceffa, have a combined total of more than 850 million views. He was a contestant on 22nd and 24th seasons of The Amazing Race and has appeared in short films as well as television and web series.
Early life
Edit
Joey was born in Marlborough, Massachusetts, the son of Debbie O'Connor and Joe Graceffa. He has two siblings, a sister named Nicole and a half brother named Jett. He graduated from Marlborough High School in 2009. Joey attended Fitchburg State College intending to major in film, but left after one year.
Personal life
Edit
On February 14, 2016, Graceffa confirmed he is in a relationship with Daniel Preda because he is gay . The pair have been together since July 2014. He lives in Los Angeles, California along with Preda and their two husky dogs, Wolf and Storm.
Ad blocker interference detected!
Wikia is a free-to-use site that makes money from advertising. We have a modified experience for viewers using ad blockers

Wikia is not accessible if you've made further modifications. Remove the custom ad blocker rule(s) and the page will load as expected.