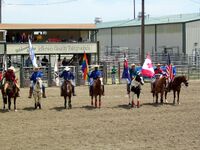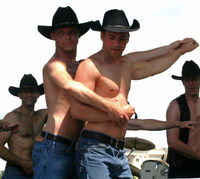 The International Gay Rodeo Association (IGRA) is a sanctioning body for gay rodeos, amateur rodeo events held throughout the United States and Canada. It is comprised of many regional gay rodeo associations, and sanctions a season of rodeo events which culminates in an annual finals rodeo. IGRA events are intended to allow all competitors, whether gay, lesbian, bisexual, transgender, or heterosexual, to compete in the sport of rodeo without discrimination, and to help to spread appreciation for Western culture and the sport of rodeo, while serving as a fundraising vehicle benefiting many charitable organizations.[1]
The first gay rodeo was held in 1976 in Reno, Nevada, organized as a charity fundraising event. Several regional gay rodeo organizations were formed in the following years to promote the concept of gay rodeo and to organize events. In 1985, these five existing organizations came together to form the IGRA as a national sanctioning body.[2] As of the 2008 rodeo season, there were 28 regional associations with 19 rodeos on the schedule.[3][4].
References
Edit
Ad blocker interference detected!
Wikia is a free-to-use site that makes money from advertising. We have a modified experience for viewers using ad blockers

Wikia is not accessible if you've made further modifications. Remove the custom ad blocker rule(s) and the page will load as expected.