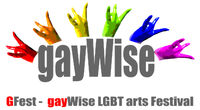 GFest - gayWise LGBT Arts Festival is the premier LGBT annual cross-arts festival in London - a platform for lesbian, gay, bisexual, transgender and queer artists, organisations and venues that promote LGBT and queer arts.
Organised by arts charity Wise Thoughts, GFest features queer artists and talent across the arts, including visual arts, theatre, dance and performance, short films, debates, workshops and parties.
In 2008, over 60 artists took part in GFest 08, with over 2,000 people attending events. The launch of GFest 08 took place at the Palace of Westminster making it the first ever LGBT arts initiative to be launched at the House of Commons.[1]
GFest '09 will be held 9 – 22 Nov 2009, the third year for the festival.
8th GFEST (Gaywise FESTival) was held November 9–21, 2015 with theme of "(Complacent Present..) ..Fragile Future?".
Its Artistic Director is Niranjan Kamatkar.
References
Edit
External links
Edit
Ad blocker interference detected!
Wikia is a free-to-use site that makes money from advertising. We have a modified experience for viewers using ad blockers

Wikia is not accessible if you've made further modifications. Remove the custom ad blocker rule(s) and the page will load as expected.