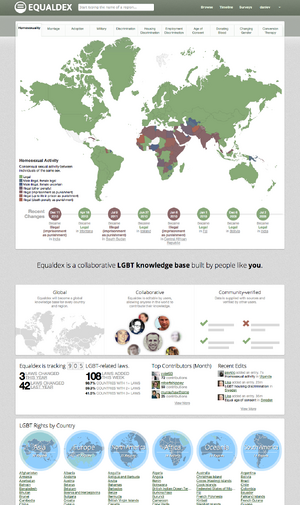 Equaldex
is a collaborative knowledge base for the LGBT movement. The site, which launched on February 25, 2014, aggregates and visualizes data about LGBT rights and laws for each country and region. The site also includes historical data for each region to show how the LGBT movement has changed over time. 
Planning and development of the site began in December of 2009. Equaldex launched to the public on February 25, 2014.
Information about laws is contributed and verified by its users. 
LGBT News
Edit
LGBT News is a platform for sharing and discovering LGBT news on Equaldex. Users can submit news stories as well as vote and discuss them.
LGBT News Feed
Loading RSS data...
Equaldex also has a LGBT rights blog.
Equaldex Blog RSS feed
Loading RSS data...
External links
Edit
Ad blocker interference detected!
Wikia is a free-to-use site that makes money from advertising. We have a modified experience for viewers using ad blockers

Wikia is not accessible if you've made further modifications. Remove the custom ad blocker rule(s) and the page will load as expected.