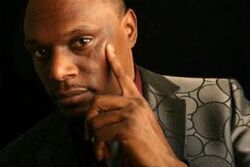 Cleo Manago (b. Sept. 21, 1963) is a Same gender loving, African American man. In his own words: a black, "social architect" and visionary, a researcher, doer, cultural expert and behavior change strategist. He does not like the term activist when applied to himself. He considers black gay activism as culturally dissonant or too limiting in scope to be of meaningful or transformative benefit to black people.
He founded both the Black Men's Xchange and the AmASSI National Health & Cultural Centers
He is credited with coining the terms "men who have sex with men" (MSM) and "same gender loving" (SGL)
Ad blocker interference detected!
Wikia is a free-to-use site that makes money from advertising. We have a modified experience for viewers using ad blockers

Wikia is not accessible if you've made further modifications. Remove the custom ad blocker rule(s) and the page will load as expected.