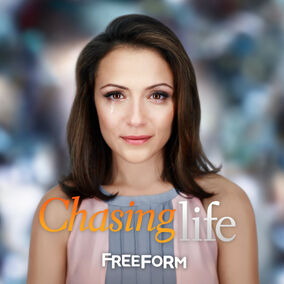 Chasing Life is an American television drama series that aired on ABC Family from June 10, 2014 to September 28, 2015. The series is adapted from the Televisa Spanish-language Mexican television series Terminales. Initially ordered for 13 episodes, on November 27, 2013, an additional seven episodes were added to the series order, bringing the season to 20 episodes. On July 15, 2014, ABC Family ordered another episode to air as a Christmas special, bringing the episode order to 21.
On November 6, 2014, the series was renewed for a second season. Originally slated to premiere on August 17, 2015, the season two premiere was moved up to July 6.
Chasing Life was canceled on October 2, 2015.
Chasing Life follows 24-year-old April, who is a smart and quick-witted aspiring journalist trying to advance her career at a Boston newspaper by impressing her hard-nosed editor. When not pursuing the latest scoop, April tries to balance her ambitious career with her family – her widowed mom Sara, rebellious little sister Brenna, and her sweet grandmother. Just as things start to look up at work, home, and on the romance front with co-worker Dominic, April finds out from an estranged uncle that she has leukemia.
LGBT Characters
Edit
Ad blocker interference detected!
Wikia is a free-to-use site that makes money from advertising. We have a modified experience for viewers using ad blockers

Wikia is not accessible if you've made further modifications. Remove the custom ad blocker rule(s) and the page will load as expected.