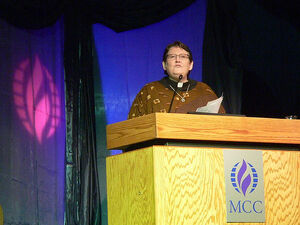 Rev. Elder Arlene Ackerman is on the Board of Elders of the Metropolitan Community Church.
She has also served as Senior Pastor of All God's Children MCC, Minneapolis, MN, as pastor of MCC Bakersfield, Bakersfield, California and Assistant Pastor and Interim Pastor of MCC Portland, Portland, Oregon and as District Coordinator of the then Mid-Atlantic District.
She now serves as the Elder serving Region 3 which covers Antigua & Barbuda, Barbados, Bermuda, Dominican Republic, Grenada, Guadeloupe, Haiti, Martinique, Puerto Rico, St. Kitts & Nevis, St. Lucia, Saint Vincent and the Grenadines, Trinidad, Tobago, Turks & Caicos Islands, Virgin Islands and the U.S. States of Delaware, Maryland, New Jersey, New York, Pennsylvania, Virginia, the District of Columbia.
Rev. Ackerman is one of the developers of the Universal Fellowship of Metropolitan Community Churches Church Planting program and is the current chair of the Church Planting Initiative (June 8, 2007). Under Rev. Ackerman's guidance, many new congregations have started in the denomination.
Rev. Ackerman passed away on Sunday March 11 2018.
References
Edit
This page uses content that was added to Wikipedia. The article has been deleted from Wikipedia.
As with this wiki, the text of Wikipedia is available under the Creative Commons Attribution-Share Alike License.