Welcome to the LGBT Project, a website which aims at providing factual, unbiased and down-to-earth information about lesbian, gay, bisexual and transgendered people.
Currently our project has 5,584 articles.

If you don't like Wikia's new skin/layout: (1) Login with your Wikia username. (2) Go to your Wikia preferences (3) go down to "Appearance" area, "Layout" line and select "MonoBook" and (4) click on "Save" button near bottom of webpage.

National Coming Out Day is a civil awareness day internationally-observed on October 11 for coming out and discussion about LGBT issues. It is observed by members of the LGBT communities and their supporters.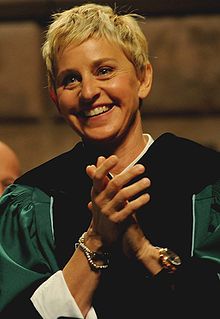 Ellen DeGeneres
American comedian, television host, actress, writer, and producer
"

Why can't they have gay people in the army? Personally, I think they are just afraid of a thousand guys with M16s going, "Who'd you call a faggot?"

"

—Jon Stewart